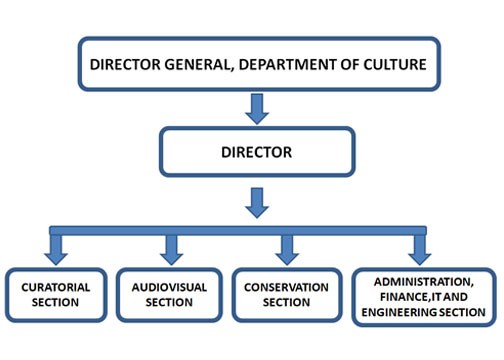 THE DIRECTOR:
The Director of the National Museum manages the overall policy and plans of the Museum including the development of the collections, determining the strategic plan for the museum and overseeing the management of the Museum complex. He conducts significant outreach activities to visitors, international VIPs and academic guests and represents the cultural interests of Bhutan in domestic and internal gatherings.
CURATORIAL SECTION:
The Curatorial team is responsible for the acquisition of new objects for the collection, mounting exhibits and maintaining the galleries.It is the lead team for the overall management of the galleries.The Museum Assistants who provide expert commentary in the individual galleries serve on this team.
AUDIOVISUAL SECTION:
The Audiovisual team creates and maintains the digital archive of the collection to assist with cataloguing as well as recording gallery openings, symposiums, new exhibit and VIP visits.
CONSERVATION SECTION:
The Conservation Section occupies a newly constructed laboratory building where trained conservators clean, repair and restore objects prior to display.
ADMINISTRATION, FINANCE,IT AND ENGINEERING SECTION:
This team manages the planning, budget and finance function for the Museum as well as setting and updating policies.The IT and Engineering team builds and designs the physical exhibits spaces, installs lighting systems etc.